PRESS RELEASE - March 4, 2019
WE DID IT AGAIN! DEBIAN IT NAMED ONE OF CANADA'S TOP 50 BEST MANAGED I.T COMPANIES FOR THE THIRD YEAR IN A ROW!
FOR IMMEDIATE RELEASE
Contact: Vincent Fung, Founder & CEO
Phone: 403-410-2583
Email: press@debianIT.com
DEBIAN INFORMATION TECHNOLOGY INC. HAS BEEN NAMED ONE OF CANADA'S TOP 50 BEST MANAGED I.T. COMPANIES at the 50 BEST MANAGED IT COMPANIES AWARDS GALA in Toronto, Ontario, on February 7, 2019.
CALGARY, ALBERTA – March 4, 2019  – TechnoPlanet Productions has again named Debian Information Technology Inc. one of Canada's Top 50 Best Managed IT Companies. This is the third year in a row that Debian IT has been selected for this prestigious award!
"We are honored to receive this award again for the third year in a row," said Vincent Fung, Debian IT's Founder & CEO. "2018 marks our 22nd year serving businesses across Canada with world class IT services. We continue to grow and add new team members across the country and building an incredible team culture that delivers exceptional client experiences continues to be our number one priority. Our team continues living out our core obsessions in everything that we do an we're looking forward to another KICK-ASS year!"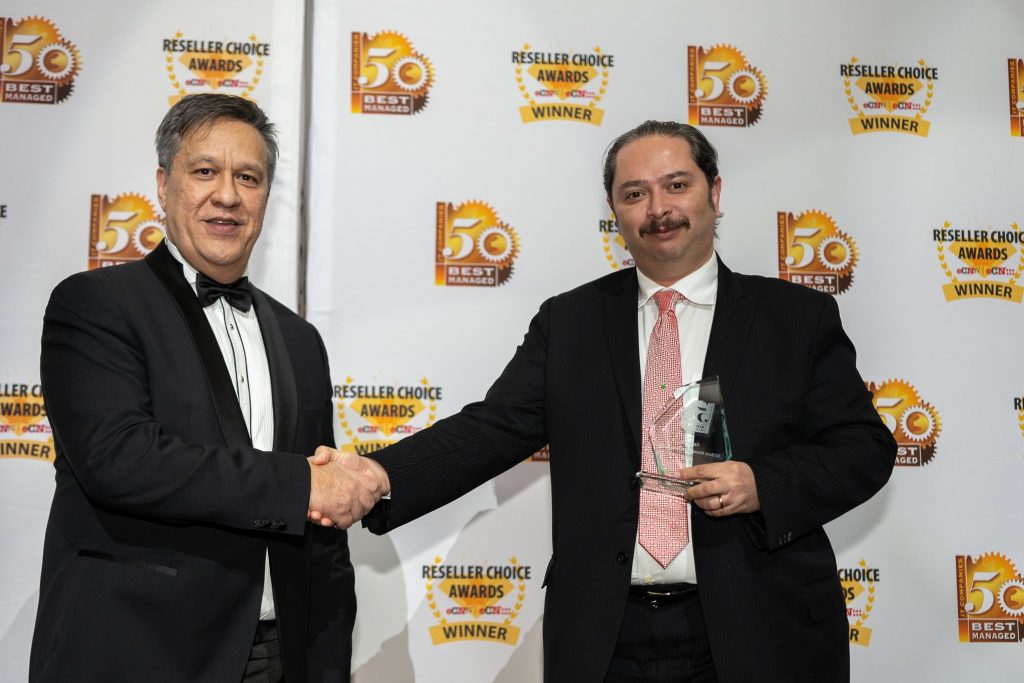 Sami Al-Azawi from Debian IT's Toronto Office receiving our Top 50 Award
About TechnoPlanet Productions and the 50 Best Managed IT Companies Award
TechnoPlanet is an international channel marketing and communications company that specializes in the technology industry. Since 1993, we have been developing best-practice channel solutions that help technology manufacturers develop and manage their channel partners.
Over 1,800 nominees from 4 countries worldwide were evaluated in their business practices including Business Vision & Strategy, Operations Processes, Financial Management, Leadership & Management, Sales & Marketing Processes, and Customer Satisfaction. Winners were selected based on a rigorous review of the best practices that are used to run their business.
Award winners are amongst the best-of-the-best in the IT Channel in their country when it comes to running their businesses. They have the best business leaders in the IT industry, are poised to have sustainable success in the future, offer superior customer service, and attract and retain the top talent in the IT industry.
About Debian IT
With offices across Canada and founded in 1996 with the vision to deliver exceptional IT services and support to the small and medium business sector, Debian Information Technology Inc. has provided quality IT management and business consulting services for over two decades.
With locations across Canada, and IT partners in Europe, South America, and across the USA, Debian IT is able to meet its clients' needs anywhere, anytime.
If you're ready to make the switch to a team that truly cares about the success of your business, makes technology work seamlessly for your organization, and makes it incredibly easy for you to forget about the challenges of making technology work for you, Debian IT is ready to work with you!
Want to learn more about how to get the most out of technology in your business?
Get a COMPLIMENTARY copy of VIncent Fung's book "Computers Should Just Plain Work!" - An essential guide for Business Owners and Executives. Claim your copy using the form at the top of this page.
COMPLIMENTARY BOOK OFFER
Claim your FREE copy today!