At Debian IT, our Kick-Ass team believes in giving back to the local community. We have contributed the following to worthy local organizations by providing:
Event Sponsorships
Monetary Donations
Student Sponsorships
Volunteer Time
Here are some of the events, charities, and foundations that we have recently contributed to:
SAIT – DEBIAN I.T. ESTHER K.Y. CHAN MEMORIAL SCHOLARSHIP

Scholarship Award Background
When we reflect back upon our lives, we can all pinpoint turning points that changed the course of our lives forever. Some of these may have been choices we made, but more often than not, these turning points are the result of outside influences, people in our lives, that made a lasting impact.
For my brother, Ritchie, and I, a major turning point came before we were even born. My Aunt Esther, had sponsored our parents to immigrate to Canada. Determined not to raise their family in Hong Kong, where my father had just faced the loss of his business and a massive real-estate crash, they hopped onto a plane and moved to Canada, a country where they could barely speak the language.
Aunt Esther was the ultimate example of a selfless philanthropist who devoted her life to helping others, sponsoring dozens of families to Canada and helping them establish their roots here and spawning generations of successful Canadians, including doctors, lawyers, and entrepreneurs.
In 1983, Aunt Esther gave our family a gift that would again change the course of our lives forever. For Christmas that year, she gave us a Commodore 64. Our first computer. Something that our family would not have been able to afford on our own.
It was love at first sight with that computer. I would spend days and nights pounding away at the keyboard, learning everything I could about it, coming up with ways to make it do things, and letting my imagination wander. This was the spark that ignited my passion for how technology impacts our lives and ultimately how it impacts the businesses that we help to succeed.
Aunt Esther continued to impact and influence us over the years in her little ways that propelled the lives of Ritchie and I to where we are today. She passed away suddenly in 1999 when Debian IT was still in its infancy, having operated for only 3 years at the time. While this was a devastating loss at the time, her influences continued to drive our success over the years.
About the Debian IT, Esther K.Y. Chan Memorial Scholarship at SAIT
We're proud to honor the legacy that ignited our success to continue the work she did to help others succeed. The Debian IT, Esther K.Y. Chan Memorial Scholarship, an award of $5,000.00, is largest single value scholarship at SAIT's School of Information and Communication Technologies.
This annual scholarship is awarded based on academic achievement, financial need, and the demonstrated ability to apply academic content to real-world scenarios. Preference is given to students who demonstrate a strong entrepreneurial spirit, collaboration, and team leadership skills.
PLATINUM SPONSOR – THE CHINESE ACADEMY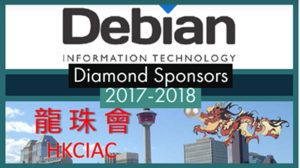 Debian IT is proud to be a Diamond Sponsor again this year for 2017-2018 School Year at The Chinese Academy. Celebrating its 21st anniversary this year, The Chinese Academy's goal is to promote the Chinese language and culture for everyone. Founded in 1997 by Elaine Chan, the Chinese Academy is the largest language school in Alberta with over 1,900 students.
For more information about The Chinese Academy: http://chineseacademy.ca